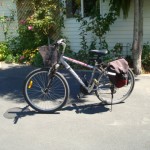 The Single Bike
21-speeds to get you there and back again, these comfortable bikes are ideal for your winery tour.
Pannier or basket, ideal for stowing your valuable vintages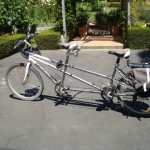 The Tandem Bike
21-speeds to get you and your travelling companion there and back again, all you need to decide is who steers and who sits back.
Aside from the additional seat, these bikes come with everything (helmet, hi-viz, lock and panniers) that we provide on the single-seated hire.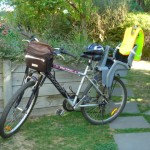 Child Seats
Strong & comfortable, these seats even come with their own handle bars so your junior passenger can feel part of the action.
We have small adjustable helmets and Hi-visibility vests.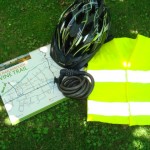 The Gear
All our bike hires include:
Cycle helmet (compulsory equipment for New Zealand cyclists)
High-visibility jacket
Lock, to keep your Bike where you left it while you enjoy the hospitality of the region
Map and plenty of good advice on a recommended route to follow.
We also have our back up van at the ready for any eventually.